GTA Games always most fun and best games for pc that are always being the childhood of most 18-24 aged people. GTA Games saw major changes and these changes makes them best. Today, we are going to see how GTA Games takes to the new gaming world.


GTA 3
GTA 3 was the first game in the series of GTA and. Also, it was the first pc 3D game set in the 3d environment. GTA 3 is considered as the first evolution in the PC games. It was released in 2001 developed and published by Rockstar games. Although this game is not very much fun to play and we know, what we can expect as the game was released 19 years ago. 
CPU: Intel Pentium

RAM: 128 MB

OS: Windows 10/8/7 or less

VIDEO CARD: None

SOUND CARD: 100% DirectX 9 compatible

FREE DISK SPACE: 2 GB

DEDICATED VIDEO RAM: N.A
GTA Vice City 
GTA Vice City saw major changes when it was released in 2002. Unlike GTA 3, now Helicopters were operate-able, new boats were introduced, 4 new bikes and many new cars, new walking animation, new gun sound, gun animation and many more things. Trains were removed from GTA Vice city that were introduced in GTA 3. It also got a system of weather transformation and day cycle got updates. 
CPU: Intel Pentium

RAM: 128 MB

OS: Windows 10/8/7 or less

VIDEO CARD: None

SOUND CARD: 100% DirectX 9 compatible

FREE DISK SPACE: 2 GB

DEDICATED VIDEO RAM: N.A
GTA San Andreas
GTA San Andreas still being one of the best PC open world games. Still in 2020, GTA San Andreas (Called as gta sa) stands first in GTA games for pc. Even though it was released in 2004, still most of the people still plays it. Everyone knows, GTA San Andreas was the best game of its time. Although, The graphics of the game is like of the game of its time. But the GTA San Andres is still fun to play. Also, GTA San Andreas was the first game by Rockstar game that feature a black man as a Protagonist. 
Visit our site for more content
GTA San Andreas saw major changes in the game and takes the gaming world to the new journey. Unlike previous GTA games, GTA SA saw major upgrades. New bikes, new vehicles, new bicycles and many more new things were introduced. New Airports, new bikes, new motion blur effect for fast vehicle. Also, GTA SA was the first games to feature driving planes. From giant jumbo jet to the stunt plane. New weapons, tons of vehicle and lots of more features were introduced which makes this game the most loved GTA Game for pc.
CHECLOUT: PUBG MOBILE INDIA UPDATE
System Requirements
CPU: Pentium 4 or Athlon XP

RAM: 384 MB (the more the better!)

OS: Windows 2000/XP only

VIDEO CARD: 128 MB DirectX 9.0c compliant video card (NVIDIA GeForce 6 series)

TOTAL VIDEO RAM: 128 MB

FREE DISK SPACE: 4.7 GB for full install


GTA 4
ALSO READ Best racing games PC: Best racing game for PC 2020.
GTA 4 was one of the most underrated game and one of the most realistic best GTA Games developed and Published by Rockstar games. But GTA 4 was known for its awesome ragdolls and Physics that was too much in the time it was released. Also, he GTA 4 has real life driving experience, high graphics and better reality. GTA 4 takes GTA Gaming experience to a separate world. Now, it features Europhia Physics. Although, GTA 4 has many things less than GTA SA. Like giant planes now were not operatable, Trains were now only passenger and now we cant drive them. With new ragdoll system, GTA 4 features no many realistic things. 
CPU: Intel Core 2 Quad 2.4GHz, AMD Phenom X3 2.1GHz

CPU SPEED: 2.4 GHz

RAM: 2 GB (Windows XP) 2.5 GB (Windows Vista)

OS: Windows Vista – Service Pack 1 / XP – Service Pack 3 / Windows 7

VIDEO CARD: 512MB NVIDIA 8600+ / 512MB ATI 3870+

SOUND CARD: Yes

FREE DISK SPACE: 18 GB

DEDICATED VIDEO RAM: 512 MB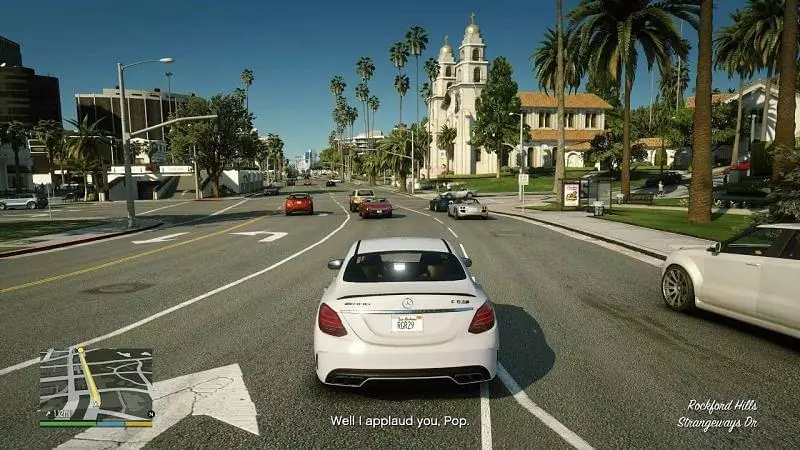 GTA 5
GTA 5 being the best GTA game ever and also the best open world games  is the best pc open world type game and it is not only because of its graphics but also it has lots of realistic features real car driving experience and a game by which you can never bored. It has lots of mode, interesting story, selectable protagonist and many more thing. Although, GTA 5 was released in 2013, still there is no game which meet the fun level of GTA 5. 
ALSO READ: Best laptops to Play GTA 5.
GTA 5 was the evolution of GTA Games. From GTA 3 to GTA 5, so many changes occurs and some broke the games and some improves the game. GTA 5 was released in 2013 when other game units were not even thinking and Rockstar games released the most realistic game for PC. GTA 5 has most of the things similar to GTA 4 except its graphics and takes the game to a new level. Also, GTA 5 uses the same Euophia Physics but with a upgraded version like car handling was easier then GTA 4 etc.
ALSO READ: PUBG MOBILE MEITY STATEMENT.
CPU: Intel Core 2 Quad CPU Q6600 @ 2.40GHz (4 CPUs) / AMD Phenom 9850 Quad-Core Processor (4 CPUs) @ 2.5GHz

RAM: 4 GB

OS: Windows 10 64 Bit, Windows 8.1 64 Bit, Windows 8 64 Bit, Windows 7 64 Bit Service Pack 1, Windows Vista 64 Bit Service Pack 2*

VIDEO CARD: NVIDIA 9800 GT 1GB / AMD HD 4870 1GB (DX 10, 10.1, 11)

SOUND CARD: 100% DirectX 10 compatible

FREE DISK SPACE: 72 GB

DEDICATED VIDEO RAM: 1 GB
Download These games from Steam
Check These